[ Allen Ginsberg - For Martin Mooij - signed and dated hand-written ms., Rotterdam, June 14, 1979]
In Rotterdam, the Tower of Babel/rises unbombed to the rainy sky/today - many tongues babbling/their compleyents under grey clouds/An Indonesian poet come from black jail singing/A poet from East Berlin offering Consonants/A poet or two from Russia, silent in absentia/Poets from America, poisoned by plutonium/Still Chanting Whitmanic vowels/Poets speaking natural French, utter Dutch/caroling in Japanese and Roumanian/Muttering in German, soothsaying in African/syllables -/What human music emerges from the Tower of Babel?/In Mind museum the Babel Tower/sits silent thru centuries of heaven-breath" -
[Martin Mooij (1930-2014) with Japanese poet Kazuko Shiraishi]
Allen Ginsberg's international travels. Yesterday we paused briefly to look at his time spent in Warsaw. Today, Rotterdam. The 45th Poetry International Festival in Rotterdam, an annual global gathering took place once again this past June. Plans are already afoot for the 46th.
Poetry International has, over the years, developed and refashioned itself, to become, not just a single one-time yearly event but a continuing and facilitating presence. The emphasis remains firmly on the international - "What human music emerges from the Tower of Babel?" - poetry from all corners, poetry from all speakers, from around the world.
Allen himself graced its stages twice - in 1973, and, again, in 1979. "Conversation With My Dying Father" (a section of "Don't Grow Old (from Mind Breaths) performed at the 1979 festival may be read and listened to here.
Here is their Allen Ginsberg page.
Sad to report its founder and guiding spirit, Martin Mooij died, peacefully, in his sleep last month . He was 83
Keeping up the Dutch theme - an early heads-up for a very special event coming up in Tilburg (approximately an hour's drive from Rotterdam) on November 22 - Allen Ginsberg in Nederland 1983 Revisited - Joep Bremmers and Eddie Woods joined by, (most importantly) the Mondriaan Quartet
come together to remember and celebrate Allen's fleeting, but memorable, visit there. Also performing, Han Buhrs (with Jacq and Bert Palincks augmenting the Mondriaan Quartet) performing a version of "Howl". The Quartet will also perform a version of Steven Taylor's beautiful haunting setting of "September On Jessore Road"
[Steven Taylor and Allen Ginsberg in 1983 rehearsing with the Mondriaan Quartet]
Jerome Poynton over at the Herbert Huncke site continues to be posting all sorts of fascinating little curios. Hear "Huncke Reading at SUNY Buffalo in 1966" and read a previously-unpublished letter from Joan Vollmer Adams Burroughs to Edie Parker (William Burroughs' wife to Jack Kerouac's wife) - here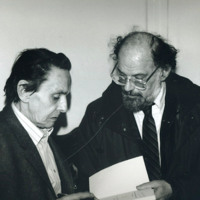 [Herbert Huncke and Allen Ginsberg (courtesy huncketeacompany)
Speaking of Kerouac, The Kerouac Project have prepared an interesting and instructive little video about "Jack Kerouac's Life in Orlando, Florida"
Anybody mind if we post another video from the recent 75th Birthday evening for Ed Sanders?
Ed continues to be indefatigable and will be appearing at the CUNY Graduate Center in New York on September 18th to speak about his latest publication, A Book of Glyphs from Steve Clay's Granary Books
(and, yes, that' is the ubiquitous Steven Taylor, backing him up on vocals and guitar once again)