[Bob Dylan and Allen Ginsberg, Edson Cemetery, Lowell, Massachusetts, 1975, at the site of Jack Kerouac's grave - Photograph by Ken Regan]
Saw your movie [Renaldo and Clara] twice at (the) Waverly Theatre (New York City)...and you have no idea how breathlessly great your movie is, nor have you had a rare glimpse of how the packed theater was bursting with applause from their hands and mouths at the sight of you singing "Tangled UpIn Blue" or "One More Cup of Coffee For The Road" or just the fast disappearing sight of you and Allen at Kerouac's grave stone. Just the sight of you both looking at Kerouac's stone (made) the audience fly into appreciation with their clapping winged hands and the audience's enthusiasm burst again and again throughout the four short hours, so much so I was astonished and glad for you, for not only streaming out your songs, but (for) flooding the seated theater brains and eyes with your personal private intimate calm aloneness years, flowing love arm embraces and the all so rare glimpse of you with your finger tips guitar on your lap. This is a film that happy bodies will see again and again, as Allen said, because it becomes better, clearer and makes intimate sense each time seen. How intelligently honest you come through to the audience, you have no idea, and how can you, you weren't there seated with January 25th Waverley Theatre seekers or the other showings in New York City. Someone should of taped the audience's perceptions of appreciation to play back to you. The young people I asked during intermission, in the john, etc, all loved it from many different ways. And the sad thing of it all is you don't know how great your film is to see and hear. Allen said to write you a short note of audience's reactions.
\
[ "Renaldo & Clara" - the original movie-poster]
[Bob Dylan with bass-player, Rob Stoner & poet Allen Ginsberg at The Dream Away Lodge, Becket, Massachusetts, on the occasion of Dylan's Rolling Thunder tour, 1976 - Photograph by Ken Regan]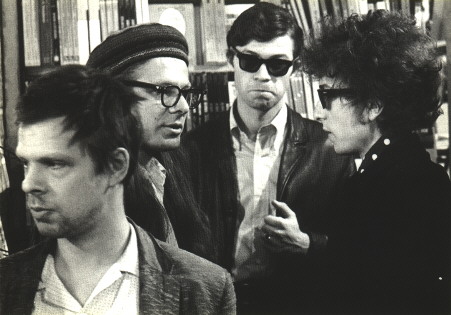 [Bob Dylan and Allen Ginsberg, c. Douglas R. Gilbert from Forever Young: Photographs of Bob Dylan DaCapo Press 2005]
Bob Dylan's birthday today (in case you didn't know). Seventy-three (and showing no signs of stopping) - Wishing you a very happy birthday Bob!