[Iggy Pop and Johnny Depp - Photographs by Allen Ginsberg c. The Estate of Allen Ginsberg]
Iggy Pop interviews Johnny Depp in the current Interview magazine (Vanity Fair's Julie Miller also picked up on this, on their blog, summarizing it, a little moralistically, with a shock-horror headline (more demonizing?) - "Johnny Depp Entertained Allen Ginsberg's Shameless Flirtations During the Beat Poet's Final Years". "Shameless flirtation"?
- Depp: "It was sweet. I just think he wanted affection on whatever level."
Iggy Pop: You mention Ginsberg flirting with you. He visited me once but he didn't flirt, so I'm kind of hurt. I think I was a little over-the-hill by that time. He just looked around my apartment and went, "How much did this cost?"
[
laughter
]


Johnny Depp: I met him when we were doing this documentary called The United States of Poetry in 1995—I was reading some Kerouac for the movie. Afterward, I offered to give him a ride home. They'd sent a limousine—back in those days it was a stretch-limo—and Ginsberg got in and goes, "Wow, how much do you think this costs per hour?" [more laughter]
Iggy Pop: I think, later on, he was a little obsessed with that stuff. But I understand. Those guys were the quintessential starving artists.
Johnny Depp: Indeed. Being in his New York apartment felt like you'd walked into 1950. 


Iggy Pop: With the little Zen tchotchkes. 


Johnny Depp: And books everywhere. He was a relentless flirt. Every time I saw him, he'd want to hold hands. It was sweet. I think he just wanted affection, on whatever level.
The Allen Ginsberg Project posting on Iggy Pop can be read here
The Allen Ginsberg Project posting on Johnny Depp can be read
here
Open Culture
, always Beat-attentive, generously spotlighted this week
Allen's 1980 Shakespeare class at Naropa.
For more of Allen-on-Shakespeare see here, here and here.
[Harry Smith - Photograph by Allen Ginsberg c. Estate of Allen Ginsberg]
On the occasion of the re-issue of a new, limited-edition vinyl release by Portland's Mississippi Records of Harry Smith's "Anthology of American Folk Music", Dave Miller at Oregon Public Radio interviews Eric Isaacson, the label's boss, and Rani Singh (head of the Harry Smith Archives).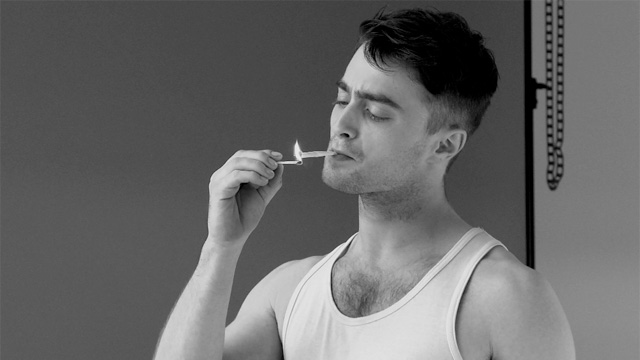 [Daniel Radcliffe]
From a French interview with Daniel Radcliffe (on playing Allen Ginsberg):
"I discovered Allen Ginsberg at fourteen . That was the age when I read the first lines of his poem "Howl ". I read the rest of his work much later. I remember at the time I found it all very chaotic and dark. I also felt closer to Jack Kerouac . His work spoke to me more. ( J'ai découvert Allen Ginsberg à 14 ans. Cet à cet âge-là que j'ai lu les premières lignes de son poème "Howl". J'ai lu le reste de son œuvre beaucoup plus tard. Je me souviens qu'à l'époque j'avais trouvé tout cela fort chaotique et sombre. Je me sentais d'ailleurs plus proche de Jack Kerouac. Son œuvre me parlait davantage. - What have you discovered about him with this film? (Qu'avez-vous découvert de plus sur lui avec ce film ?) - I mostly understood what the real relationship was that he had with his mother ... but also with the rest of his family. Not forgetting his friends. In a certain sense, these human relationships have influenced his poetry. Once filming ended, yes, I can say that I became a big fan of Ginsberg's work. (J'ai surtout compris quelle était la véritable relation qu'il entretenait avec sa mère… mais aussi avec le reste de sa famille. Sans oublier ses amis. Dans un certain sens, ces rapports humains ont influencé sa poésie. Une fois le tournage terminé, oui, je peux dire que je suis devenu un grand fan de la littérature de Ginsberg.)
et aussi en francais -
les Beats
- (Le Magazine Litteraire)
Some recent ( you may well have missed them) obituary notices
- on Rene Ricard in The Daily Telegraph and Robert LaVigne (this week) in the
L.A.Times
[Rene Ricard (1946-2014) - Photograph by Allen Ginsberg c.Estate of Allen Ginsberg]
[Robert LaVigne (1928-2014), in 1965, San Francisco,in his studio - Photograph c. Larry Keenan]