[Rene Ricard (1946-2014) - Photograph by Allen Ginsberg c.Estate of Allen Ginsberg - courtesy Raymond Foye]
We received news yesterday of the death, at 67, of the larger-than-life, irreplaceable, Rene Ricard, poet, painter, art critic, scene-maker, ex-Andy Warhol super-star, subject of one of Allen's most penetrating portraits (see above). The cause of death has been reported as cancer. As his friend, painter, Brice Marden, declared, speaking to the New York Observer, "Ricard was experiencing difficulty walking and went into the hospital about a week ago for a hip replacement - "When he went in they found there was all this other stuff. He was going to be starting chemotherapy, but he didn't get it in time."
Ricard was the author of the eponymous Rene Ricard 1979-1980, in its distinctive Tiffany blue (the first poetry publication of the DIA Foundation). This was followed by God With Revolver - Poems 1979-82 (1990) (the only large-scale Hanuman book), followed by Love Poems (C U Z Editions, 1999)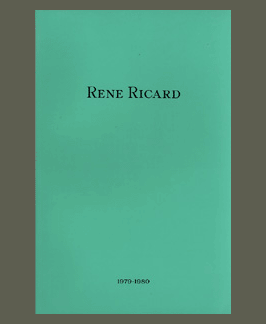 Trusty Sarcophagus Co. (Inanout Press, 1990), inaugerated a medium which Ricard engaged in with gusto for the latter part of his life - poems painted (or scrawled) onto found artwork.
He had a number of singularly noteworthy shows both in London and the US (most recently "new paintings and not so new" at San Francisco's Highlight Gallery)
His work was (indeed, continues to be) represented by Cheim & Read and by Vito Schnabel, son of another of his long-time friends, the painter and film-maker Julian Schnabel.
His brilliant (if idiosyncratic) art writing (for the magazine Artforum in the early 1980's), it would be
no exaggeration to say, was crucial in helping launch Schnabel's career, and, perhaps even more influential,
"The Radiant Child"
, his December 1981 essay, the first substantial piece on that artist, marked and sealed the fame of
Jean-Michael Basquiat.
Michael Wincott had the unenviable role of playing Rene in the film Basquiat
"The George Sanders of the Lower East Side, the Rex Reed of the art world", Andy Warhol famously called him.
He himself played Andy Warhol in 1966 (alongside Edie Sedgwick) in The Andy Warhol Story
Here's a harrowing clip (from a little over three years ago) of Rene reading
Here's a recent (well, 2009) interview (fragment):
Interviewer: How do you feel about the state of poetry today, especially in New York?
Rene Ricard: I loathe poetry. I just gave a poetry reading and other poets were standing up and reciting their rhymes from memory, I guess that's cute, you know, with the backbeat, but I loathe it. I don't like what I read in The New Yorker. I really like my own poetry a lot and I think that's why I write it. Of all the arts, it's the one I know the least about, and it's interesting that it's the one I practice and earn my living on. Anyway, yes, I like my own work. It speaks to me." [laughter]