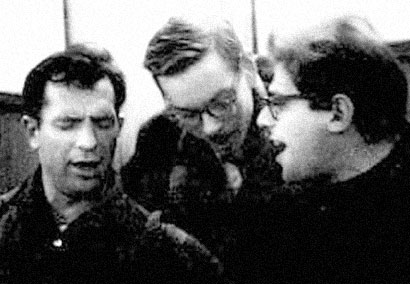 [Jack Kerouac, Lucien Carr, Allen Ginsberg]
Our thanks to the wonderful
Open Culture
for alerting us/reminding us of
this one,
the legendary 1958 discussion at the Brandeis University Club in New York City on the subject
"Is There a Beat Generation?
".
Joseph Kauffman
, Dean of Students at Brandeis University serves as a moderator to a panel consisting of authors,
Jack Kerouac
and
Kingsley
Amis
,
New York Post
editor,
James Wechsler
, and anthropologist, Dr
Ashley Montagu
.
Kerouac's heart-felt, erratic, passionate drunken talk is, quite simply, priceless. ("The question [Is There a Beat Generation?] is very silly because we should be wondering tonight, Is there a world? - But I could go and talk for five, ten, twenty minutes about Is there a world?, because there is, really, no world, because sometimes I'm walking on the ground and I can see right through the ground, and there is no world...but you'll find out")
Kerouac goes on, first, reading from a prepared essay on "my relationship to the Beat Generation and all that stuff" ("This article, necessarily, has to be about myself. I'm going all out.."), tells the story of how Gregory Corso provided him with "a silver crucifix" for a now famous photo-op [it's, interestingly, often air-brushed out], days spent "walking talking poetry in the streets, walking talking God in the streets".."Why don't you come back in a million years and tell me all about it, angel?"
Kerouac: "Recently, Ben Hecht said to me on tv, "Why are you afraid to speak out your mind?, What's wrong with this country? What is everybody afraid of?". Was he talking to me? And all he wanted me to do was speak out my mind against people, he sneeringly brought up (John Foster) Dulles, Eisenhower, the Pope, all kinds of people like that, habitually that he would sneer at..against the world, he wanted... this is his idea of freedom, he calls it freedom -
but who knows my god that the universe is one vast sea of compassion, actually? a veritable holy honey? beneath all this show of personality and cruelty?.." .. "Why should I attack what I love out of life? This is deep. Live your lives out? - nah, Love your lives out! - and when they come and stone you, at least you won't have a glass house, just your glassy flesh"
Kerouac recalls early conversations with John Clellon Holmes (author of Go and The Horn - "good book, The Horn"), ("Maybe, since I'm supposed to be "the spokesman for the Beat Generation", I am only the originator of the term.."), speaks of his Breton and mixed ancestry, and traces cultural and personal antecedents - "There is no doubt about the Beat Generation, at least the core of it - being a swinging group of new American men intent on joy. Irresponsibility? Who wouldn't help a dying man on an empty road?"
Towards the end, he recites a poem to Harpo Marx ("Harpo, I'll always love you..").
Kerouac: "Since this is a university, we're here to teach, right? Now I don't think I can teach anything to any of you any more than you can teach me because the Lord said that the attainment of Enlightenment is neither to be considered a high state nor a low state, everybody equally attains it, because everybody equally knows, as Allen Ginsberg says, that 'lightning strikes in the blue sky" - see everybody knows that!"
"Anyway, you're all out of your minds, and I'm out of my mind, and your out of your minds and I'm out of my mind, and doesn't that make it equal, like doesn't that make it void?"
He
concludes with "one final poem" ("this poem I dedicate to human suffering and human salvation") - he reads the 230th Chorus from Mexico City Blues ("Love's multitudinous boneyard/ of decay/The spilled milk of heroes..")
The other three speakers are, by definition, something of an anti-climax, though all have interesting, if somewhat self-satisfied responses to the topic at hand. Amis -"There may conceivably be a Beat Generation, but I very much doubt it" - The term, he believes, was coined by "literary middlemen", who use a "journalistic approach (to literature) to put people in pigeon-holes and save the reader trouble and exertion". Wechsler famously summons up Kerouac's wrath by declaring, "with due respect to Mr Kerouac", that "I see no really major point in the kind of organized confusion-ism (that he's presented), "life is complicated enough without trying to make it a poem" - "The issue is not whether there is a Beat Generation but whether there is a civilization that will survive the next decade". Wechsler presents his abiding belief in a basic humanism, but provocations like that are going to get him in trouble
[James Wechsler]
Kerouac: ..James Wechsler..who's James Wechsler? Right over there..James Wechsler, you believe in the destruction of America don't you?
Wechsler: No
Kerouac: What do you believe in? Come here, come here and tell me what you believe in. You told me what you don't believe in, I want to know what you do believe in...This is a university, we've got to learn... I believe in love. I vote for love..
Wechsler: I believe in the capacity of the human intelligence to create a world in which there is love, compassion, justice and freedom. I believe in fighting for that kind of world. I think that what you're doing is to try to destroy anybody's instinct to care about this world.
Kerouac: I believe.. I believe in the dove of peace.
Wechsler: So do I.
Kerouac: No you don't. You're fighting with me for the dove of peace. You came here prepared to attack me.
Wechsler's own recollections of the evening can be read here
Ashley Montagu, the final speaker, is in agreement with Wechsler about the dangers of alienated revolt ("too great concern with oneself") but, significantly, more sympathetic to the existence of an actual Beat culture. ("It is not condemnation or contempt that is called for but compassion and understanding..") Beat writing, he sees as a "signal of distress" - "We owe a debt of gratitude to the Beat writers for so forcefully articulating what the less vocal members of this generation feel and think"
from his November 1958 letter to his friend John Montgomery - Jack Kerouac:
"..the other night I finally made my Brandeis University appearance which I didn't want to do but they cried and sent telegrams and said I was letting the university
down, so I had to go, but I was angry because it was a mess of communists [sic] and after reading my prepared article about Beat which was very good and funny (Ginsberg said I was "magnificent" which I doubt) I started to call them a bunch of communist shits over the microphone and warning them that if they get what they want, Sovietization of America, they will no longer be able to attend such meetings as we were at. There were boos and cheers. I tangled with James Wechsler and wore his hat and went off the stage and played the piano in the back and insulted photographers and generally acted like a mad drunken fool just off a freight train, which is precisely the way I am and precisely what I think of universities. I even pushed the Dean aside [Dean Kauffman] to yell shit over the mike. A lot of people were shocked. The title of the forum was "Is There A Beat Generation?" and the next day a press dispatch said that I had proved it."
A few months later to Philip Whalen
"..I've become so decadent and drunk and dontgiveashit. I pulled a big Zen Lunatic shot at Brandeis University that got everybody gabbing and scared, only Allen thought it was great and Dody [Muller], everybody else is screaming at me for undignifying my position, whatever that is. They all think writing is a "profession" that's their trouble. To me it's the day..
This Kerouac talk/performance/reading can also be accessed here (along with a host of other equally-illuminating digitalized recordings).