[Vladimir Mayakovsky (1893-1930) photographed by Alexandr Rodchenko, 1924]
Mayakovsky's Birthday today. We'll alert you to some of our earlier Mayakovsky postings - here, here, and here.
Michael Kurcfeld's video over at the LA Review of Books on the Jean-Jacques Lebel Ginsberg & Beats celebration is well worth perusing. See
here.
Did we run this review? - one out of of many, (this is Renee Ghert-Zand, in the Times of Israel)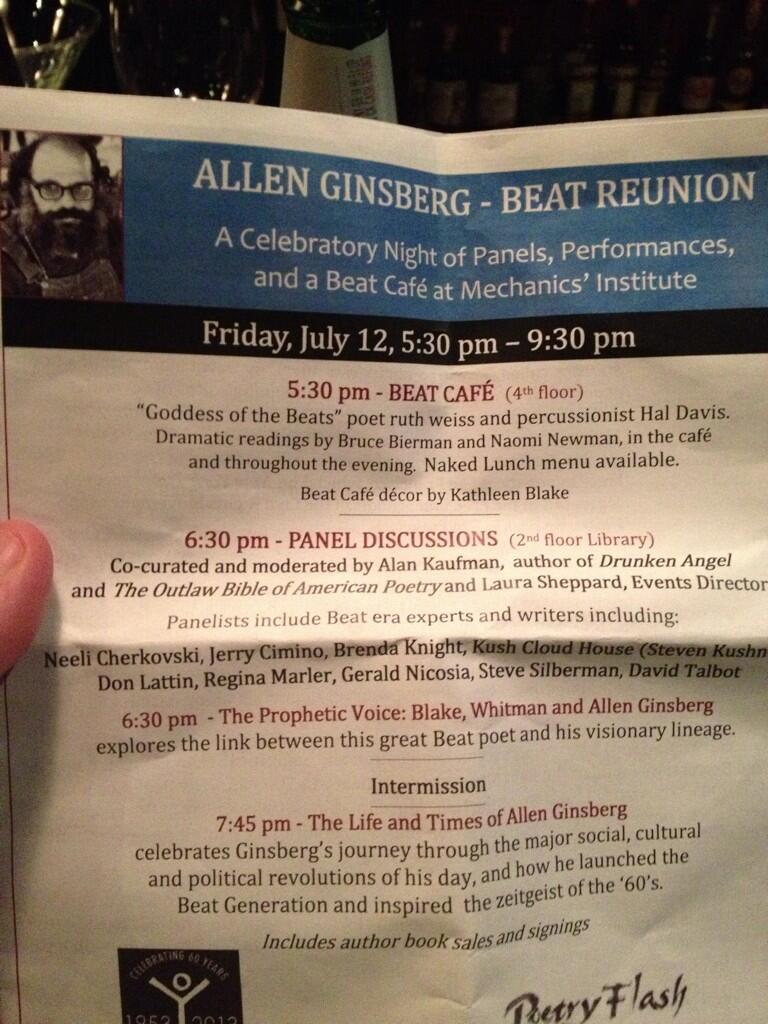 [San Francisco
"Beat Reunion"
Program - Photograph by
Neeli Cherkovski
]
The Allen Ginsberg Festival last week, linked to this, was, by all accounts, a great success. Here's a shot of the crowd who made their way, last Friday, to the Mechanics' Institute, to hear Steve Silberman, Gerald Nicosia, Jerry Cimino, Neeli Cherkovski, Alan Kaufman, Brenda Knight, among others..
[San Francisco "Beat Reunion" - Photograph by Todd Swindell
]

Simon Warner (of "Text and Drugs and Rock n' Roll") was recently subject to an hour-long special on WBEZ Chicago's "Sound Options" with Jim DeRogatis and Greg Kot. Audio for this (starting about 3 minutes in) can be found here (a brief five-minute segment can be found here)
We hear William Blake's house is up for sale, in genteel Sussex, England.
The new old Bob Dylan , "Another Self Portrait", sounds interesting.