[Peter Orlovsky & Allen Ginsberg, 1963 - photograph by Richard Avedon c. The Richard Avedon Foundation - "I'm Gay For Ginsberg" t-shirt - Allen Ginsberg with unidentified friend, c.1968 c.The Allen Ginsberg Estate]
Gay Pride Weekend - We draw your attention, first off, to this important posting here.
Our Gay Pride 2o11 post is here, 2012's posting here
We just had to - once again (in case you didn't know!) remind you of the Whitman-Ginsberg (and onward!) "Gay Succession"!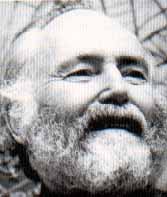 [
Gavin Arthur aka Chester Alan Arthur III (1901-1972), "who slept with Edward Carpenter who slept with Walt Whitman - who slept with.." - "The Gay Succession"]
Here's Allen (in 1994) on right-wing homophobia:
Here's a scholarly piece by Dagmar Van Engen (of Boston College) - "Howling Masculinity - Queer Social Change in Allen Ginsberg's Poetry"