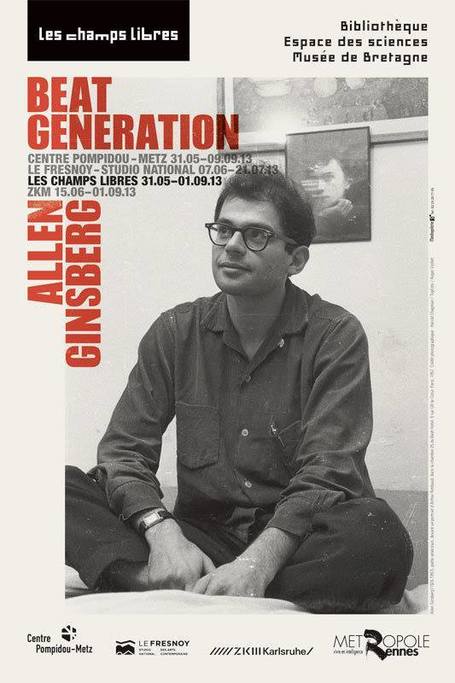 The Jean-Jacques Lebel multi-media Beat Generation exposition opened last week (simultaneously, in four European locations!). We've already shown one (Arte tv) - here's another - (Mirabelle) French tv - preview:
and here's a press preview of the German (ZKM Karlsruhe) manifestation
Lebel's opening/welcoming speech may be accessed here -
"Hello Beatniks", his introductory text may be read here
Meanwhile, back in the United States (San Francisco) at the CJM (Contemporary Jewish Museum), Beat Memories, the Allen Ginsberg photo exhibition continues. On Sunday (this Sunday) from 2 to 5 - "Snapshot Poetics Now - Queer Encounters With Allen Ginsberg" - "Inspired by Ginsberg's collection of inscribed snapshots,
Bay Area artists and scholars will create a unique performance-based tour of the gallery. Performances will be drawn from encounters with Allen Ginsberg and his legendary cohort of Beat writers, artists, and lovers". "Performers and scholars" include Jewelle Gomez, Richard Meyer, Tirza Latimer, Justin Chin, Jaime Cortez, and DL Alvarez.
A previous Beat Memories-related event took place in the Museum a couple of weeks back - "Quiet Lightning - Neighborhood Heroes Edition" - Here's Tom Comitta introducing and presenting his "Howl" track 4 (from "Howl in Six Voices 20/10") from that event
More big celebrations in San Francisco this weekend - City Lights 60th Anniversary! - (KAWL's Holly McDede celebrates that here) - more about that tomorrow.
Happy Summer Solstice!