Here's Dizzy Gillespie, in 1947, playing
"Manteca". - click here
Here's
Harry Smith's transcription of the tune. Each paint stroke represents a musical not
e.
Here's another of Harry's extraordinary art works, an Untitled work, pastel on paper, from circa 1978,
based on a series of 12 Zodiac designs
And, while we're focusing on Harry, the painter, here's another
Harry, the painter, Harry, the film-maker (so far ahead of his time!). Here are the first of his "Early Abstractions"
Here's another manifestation of the man, celebration of his exemplary collection of "string figures"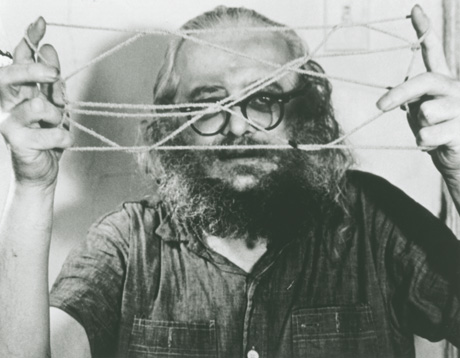 [Harry Smith - Photo by Job Palmer - courtesy Harry Smith Archives]
Here is Richard "Rabbit" Brown singing "James Alley Blues"
As we reported here, Harry's archive (or, anyway, a significant part of it) was recently
acquired by the Getty Research Institute
Extraordinary to contemplate, Harry Smith would've been 90 today. In honor of the occasion there's a celebration in New York at the Ace Hotel (there were earlier celebrations, earlier this month, in his birth-place, Oregon).
Thinking of you, Harry. For further notices on Harry on the Ginsberg Project, see here, here and here.
[

Harry Smith and Allen Ginsberg in 1988 in Ginsberg's New York City apartment,
437 East 12th Street - photograph by Brian Graham - Copyright the photographer]