The recent publication of Simon Warner's quaintly-titled, monumental (500+ pages) tome, Text and Drugs and Rock 'N' Roll, had us thinking again about lineage and connections and those issues - "Was rock culture the natural heir to the activities of the Beats? Were the hippies the Beats of the 1960s? What attitude did the Beat writers have towards musical forms and particularly rock music? How did literary works shape the consciousness of leading rock music-makers and their followers? Why did Beat literature retain its cultural potency with later rock musicians who rejected hippie values? How did rock musicians use the material of Beat literature in their own work?" - Simon Warner, journalist, broadcaster, and lecturer in Popular Music Studies at the University of Leeds in England, was the editor of 2005's Howl For Now - A Celebration of Allen Ginsberg's Epic Protest Poem, and some of the material from that book re-appears in a different form here, as well some of that earlier gathering's illustrious contributers, notably David Meltzer (who wrote the forward to the Howl For Now book) and Steven Taylor (who wrote the introduction).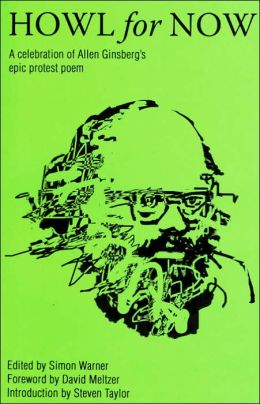 Meltzer (from the new book - the actual quote comes from a profile Warner made of him in 1998 for Beat Scene) - "I think I was the conduit for Ginsberg and (Michael) McClure to get in touch with (Bob) Dylan. I suppose at that point [circa 1964] I was the instrument. (Lawrence) Ferlinghetti, Ginsberg and McClure wanted the cultural power of the music. They had that power to a point, but the music added to those possibilities. For Dylan too, at that stage in his career it was also expedient to be identified with them. It created this extended community"
Taylor (from a piece on Allen's 1965 visit to Liverpool) - "Ginsberg would have said Liverpool was the center of consciousness or whatever, because of The Beatles. He had a crush on them, just as he had on Dylan. Young men of obvious talent and massive fame. Al was what we call a star-fucker. And he was right, Liverpool was a vortex of consciousness, on account of (John) Lennon, for my money."
The interview with Taylor (alongside another Beat Scene profile of him) would be worth the price of admission alone, but the book contains several other invaluable extended interviews, with such figures as McClure, David Amram (recollecting Pull My Daisy), and, most interestingly, the late Larry Keenan. It was Keenan, who famously shot, for example, this picture:
[Michael McClure, Bob Dylan and Allen Ginsberg, San Francisco, 1965 - photo by Larry Keenan]
(see also the picture on Text and Drugs and Rock 'N' Roll's cover)
Larry Keenan: "Everybody wanted to be Dylan so bad, it was amazing. Look at that photo over there of McClure, Dylan and Ginsberg, They all wanted to be Dylan so hard in that photo, it's incredible, you know?"
"(So) the case for Ginsberg's connection to the rock scene", Warner writes, "and the countercultural flow, even if we only outline his links to Dylan and the Beatles, the two major acts, after all, to come to the fore in the mid-1960's, is hard to dispute. Nor can we dismiss the pro-active efforts of the singer and the group to trigger and strengthen their links with the poet over many years"
And from the 6o's, to the '70's and '80's - As we've previously noted here and here, "Allen was a punk rocker". Steven Taylor again: "I did hang out a bit with a band called The Stimulators in New York City who included Denise Mercedes, who was Peter Orlovsky's girlfriend but also a really good guitar player, who was also a friend of Mick Ronson and Bob Dylan. Bob gave her a guitar and Mick gave her a Marshall amp and she went and played with Rat Scabies (of The Damned) for a while [in 1978] in England. And when she came back.. she had become a different musician and had become very powerful..and started this terrific band..."
The Stimulators (and later Steven's own punk band, The False Prophets) were constant visitors and guests, during those years, at Allen's Lower East Side New York apartment.
His connect to (indeed, subsequent recording with) The Clash (the result of him being turned on to them by Steven) further consolidated his "punk cred".
Steven again: "You know, you think of punk as a sort of rock 'n' roll purist, in the sense that you see it as an alternative voice, a democratic voice, an opportunity for the under-priviliged to speak. And he [Allen] saw it that way too, and he was much more articulate about it than I could ever be... Yes. Primitive. A notion of a kind of neo-primitivism which he was interested in, where he would talk about, say, the punk kids walking around with feathers in their ears, going back to a kind of native American sense, or their understanding of neo-primitivist anarchist politics, and doing it, doing it yourself. DIY...which he connected..to underground cinema of the 1950s and 1969s, and to poetry too.."
Warner's book, coming out of England, aside from the Liverpool chapter, has, undoubtedly, the most comprehensive survey of "British Beat" (interviews with Michael Horovitz, Pete Brown,Kevin Ring..), as well as informative Q & A's with American Beat scholars, Levi Asher and Jonah Raskin, and a whole lot more.
Jonah Raskin (conflict of interests? - no, not really!) gets to blurb the book:
"At long last, an electrifying exploration of the Beat Generation writers and the wild guitarists and poetic songwriters who transformed world culture. Bravo to Simon Warner for breaking down all the sound barriers and for bridging the literary and musical geniuses of our time. Hail Hail Text and Drugs and Rock 'n' Roll"