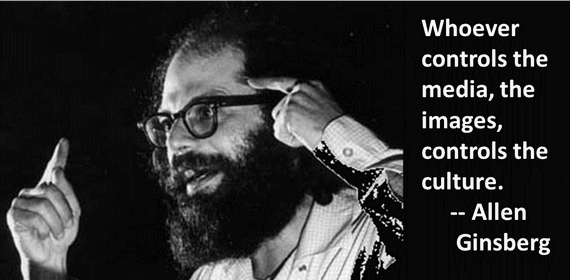 We've been tracking for some time now the Ginsberg
meme
- quotable quotes that don't actually have an accurate source (but are far too seductive to give up), viral replicators (the internet is, as is well-known, full of them). We have already had to do detective work on
"Follow your inner moonlight, don't hide the madness".
Michael Schumacher
helpfully
came to our aid with that. We were wondering if this quote, above, worthy tho' it may be, needs, likewise, a dose of caution or qualification. The occasion for such musings, earlier this week, esteemed historian and Middle East specialist,
Juan Cole
trotted it out on
his blog
. Someone in the Comments section queried (as we do) its origins. It's variously been attributed to Allen and
Jim Morrison
.
Anyone know it's true source?
Bob Dylan's new album, Tempest
, has just been announced (for a September 11 release date), "ten new and original Bob Dylan songs", causing, of course, much
speculation and anticipation
. That title?, could it be, perhaps, in reference to Shakespeare's final masterpiece? - "..this rough magic/ I here abjure; and when I have required/ Some heavenly music, - which even now I do, -/ to work mine end upon their senses.." - Allen's observations on
that
famous text ("..really right-on for a study of someone dealing with his own powers..") can usefully be perused
here
.