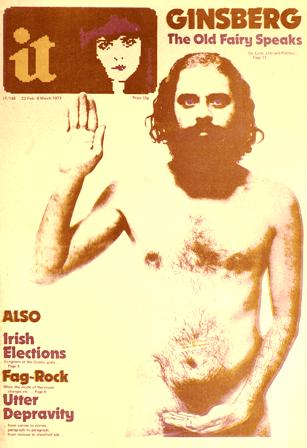 Publication of
Bernard Kops'
lucid memoir/poem,
On Meeting Allen Ginsberg In Tel Aviv 1961,
in the current newly-reconstituted, digitalized, cyber-friendly,
International Times
, set us to wondering about that bastion of "the underground", (as it was once deemed) - "IT" - England's provocative and pioneering "
alternative newspaper
" (now gloriously accessible, its extensive archives - every single issue! - freely available, on-line. For hours of nostalgic browsing, click
here
).
The issue shown above is reasonably late (dating from 1973) and features the bulk of what would subsequently be published by Donald M Allen's Grey Fox Press as the
Gay Sunshine Interview
. For facsimile reproduction see
here
and
here
and
here
.