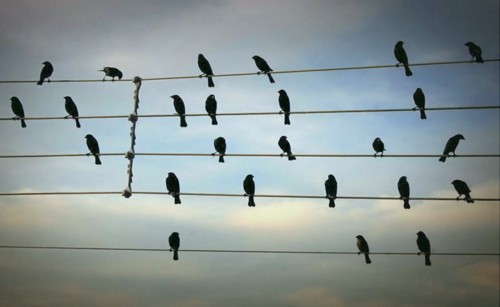 [Birds on Wires via Arksinspace]
Following up on yesterday's post, here's a few additional notes to the auctioneer's notes and a few further superficial notations.
So
,
Clement
Janequin
(
1485-1558) and his
"Chant des
Oiseaux"
(Song of the Birds). Allen is drawing here on his knowledge of Ezra Pound's work on early music and sends the reader to Pound's Canto 75 ("Out of Phlegethon!/out of Phlegethon,/Gerhart/art thou come forth out of Phlegethon?..." - "Phlegethon", from Greek mythology, one of the five principal rivers in the realm of Hell (Hades). It flows with fire and burns but does not consume. Gerhart - German composer, Gerhart Munch, who escaped from the war, bearing music manuscripts (including a handwritten transcription, for violin and piano, of Francesco da Milano's lute transcriptions of Janequin's choral setting).
"Clement Janequin wrote a chorus…when Francesco da Milano reduced it for the lute, the birds were still with the music. And when Munch transcribed it for modern instruments the birds were still there', writes Pound in his
ABC of Reading
Alonso Mudarra
(
1510-1580) (mis-transcribed by Allen as Alphonse De Mudurra)'s
David's
Lament
(Triste Estaba el Rey David) - Spanish composer – A performance of this piece (by the Kings Singers) can be accessed
here
"Quarter op. 116 (?) , the one so strained" – Quartet
(sic)
Opus 116. Any idea what Allen is referencing here? – Beethoven's Opus 116 is
this
,
but does he really mean this
"
Terzetto:Tremate, empi, tremante"? perhaps he has his numbers wrong?